If you are in the business of working with knowledge and expertise, the value of your organisation extends well beyond financial measures.  In the Celemi Tango™ business simulation, participants develop the skills required to fully leverage their people as a source of competitive advantage, and execute a successful business strategy.
In Celemi Tango™, teams become different companies, fiercely competing to create short-term gain and long-term value. Participants make fast-paced decisions about planning for optimal capacity utilisation, leveraging employees, pleasing clients and ensuring delivery – all while maintaining cashflow, brand equity, shareholder value and stakeholder satisfaction. Business operations, know-how and brand are in the spotlight, but bankruptcy, mergers or headhunters could be waiting behind the scenes!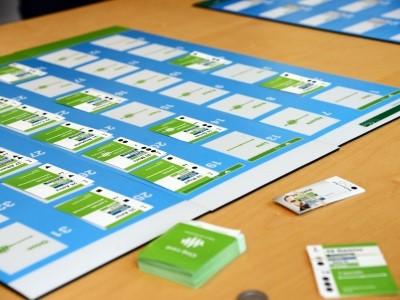 When your organisation's value comes from know-how, it pays to play Celemi Tango™ – a dynamic way to refine the dance of strategic leadership. Your most valuable asset is your people, and that means you must overcome unique challenges:
How do you attract and retain the right people in fast moving industries?
How do you get the most out of employees while still remaining an "employer of choice"?
How do you ensure that your people align with your growth strategy and ability to acquire, serve and retain valuable customers?
Celemi Tango™ is designed for employees at all levels within organisations that do business based on the competence of their personnel.  Participants are challenged to find the balance between short-term gains and long-term results, and defining success factors for knowledge organisations.
Celemi Tango™ is recommended for businesses wishing to:
Introduce, monitor or measure an organisation's intangible assets.
Create dialogue and/or a common frame of reference between administrators and experts.
Build skills among supervisors and HR teams on strategic recruitment, development and retention of key personnel.
Identify key business drivers and measure their relative importance on short- and long-term success.
Frame business strategy and define preferred types of clients.
Key Themes
Customer, People & Talent Management. Strategy. Leadership. Competitive Positioning.
Target Group
Experienced project managers, consultants, HR professionals, strategic planning teams, senior and middle managers who want to enhance the quality of their leadership.
Materials
Board-based business simulation with digital support.
Time
At least 8 hours, corresponding to 4 simulated years operation.
Participants per game
12+ per game.
Participant Benefits
Through the intense competition of Celemi Tango™, participants:
Comprehend the worth and application of soft and hard skills.
Develop and practice leadership skills and abilities.
Exercise strategic decision-making.
Value short-term and long-term planning.
Gain a competitive edge by finding ways to attract – and retain – the right employees and clients.
Practice building brand image and reputation.
Realise the importance of good capacity utilisation.
Learn about building know-how and creating sustained gain.
Understand business finance and KPIs as well as the link between corporate strategy and talent management.
Workshop Format
Celemi Tango™ can run as a 1 day or a 2 day workshop aimed at experienced senior or middle managers seeking to improve their leadership skills and tailored for your people.